These books might be helpful for getting an overview for how lesser-known Americans during the time period thought, felt and acted. Key words such as "ordinary Americans", "unknown", "obscure" or "popular sentiment" provide a clue to locating lesser-known figures for study. In addition, these books have great primary sources - from letters to paintings.
The Unknown American Revolution: The Unruly Birth of Democracy and the Struggle to Create America
Call Number: 973.3 NAS
ISBN: 0670034207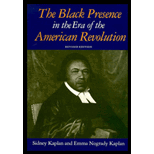 The Black Presence in the Era of the American Revolution
Call Number: 973.315 KA
ISBN: 0821205415
The Marketplace of Revolution: How Consumer Politics Shaped American Independence
ISBN: 0195063953
Start with the ANB for good overview essays, as well as the very useful Bibliographies, which will provide clues for how scholars and historians have covered the person you are studying.
The DNB is British, so especially good for colonial figures.
Gale's Biography in Context is especially useful for contemporary world figures, from pop culture to politics.
Primary Source Repositories
The Massachusetts Historical Society contains maps, digitized letters, and other documents about the American Revolution, particularly as it applies to Massachusetts. They have also collected articles and documents into a subtopic, "Coming of the American Revolution."
The Library of Congress's American Memory Project brings together a whole host of digitized documents, images and artifacts of American life. Browse by period, "1700-1799" or by topic (such as immigration) to find the person you are working on.
The Library Company of Philadelphia's collections focus on the 17th-19th century - the perfect time period for this project! You can search their Digital Collections, IMPAC, to find digitized documents, portraits, songsheets, broadsides, etc.
Search for Journal Articles